When projecting your Other Spending, you can enter a custom amount, or you can use an average based on past spending:
How Simplifi determines the average is completely up to you, and you can also allow yourself a buffer! You can also elect to not project your Other Spending.
We have also added some options when editing and deleting Planned Spending expenses, which are already available to everyone! You can now edit or delete just the current month's expense, or the entire Planned Spending Series.
When editing the entire Planned Spending Series, the changes will be made to all months, and when deleting an entire Planned Spending Series, just the current and future months will be removed.
You can access these options by selecting the three dots to the upper right of the Planned Spending expense: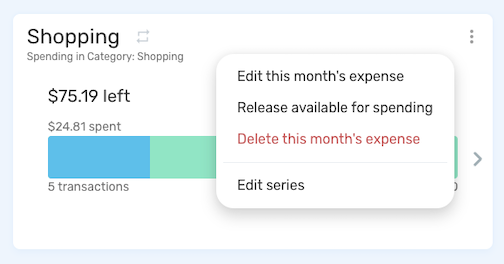 We are very excited about these changes and look forward to seeing the Spending Plan continue to blossom!